A Hollow Full Thing
The woven composition of A Hollow Full Thing taps into the common history of plants circulation and transplantation. Exploring the artificial landscape of Australia, resulting from the colonial appropriation of land and knowledge, Sandler arranges new and existing works, of an evident tactile materiality, in a silent choreography.

Emerging out of previous work I Speak Opuntia, You Speak Progress (2017) and seen from the window of Lokal-int, her installation allows for a non-penetrative gaze and presents "hollow full" hand-blown glass and skeletal earth sculptures replicating the predecessors of the flexible bag or hermetic container. A text conceived for the exhibition contemplates the vessel as repository for imagining territory, knowledge, permutation and loss.

A Hollow Full Thing - 2019 - Lokal-int - Biel, Switzerland.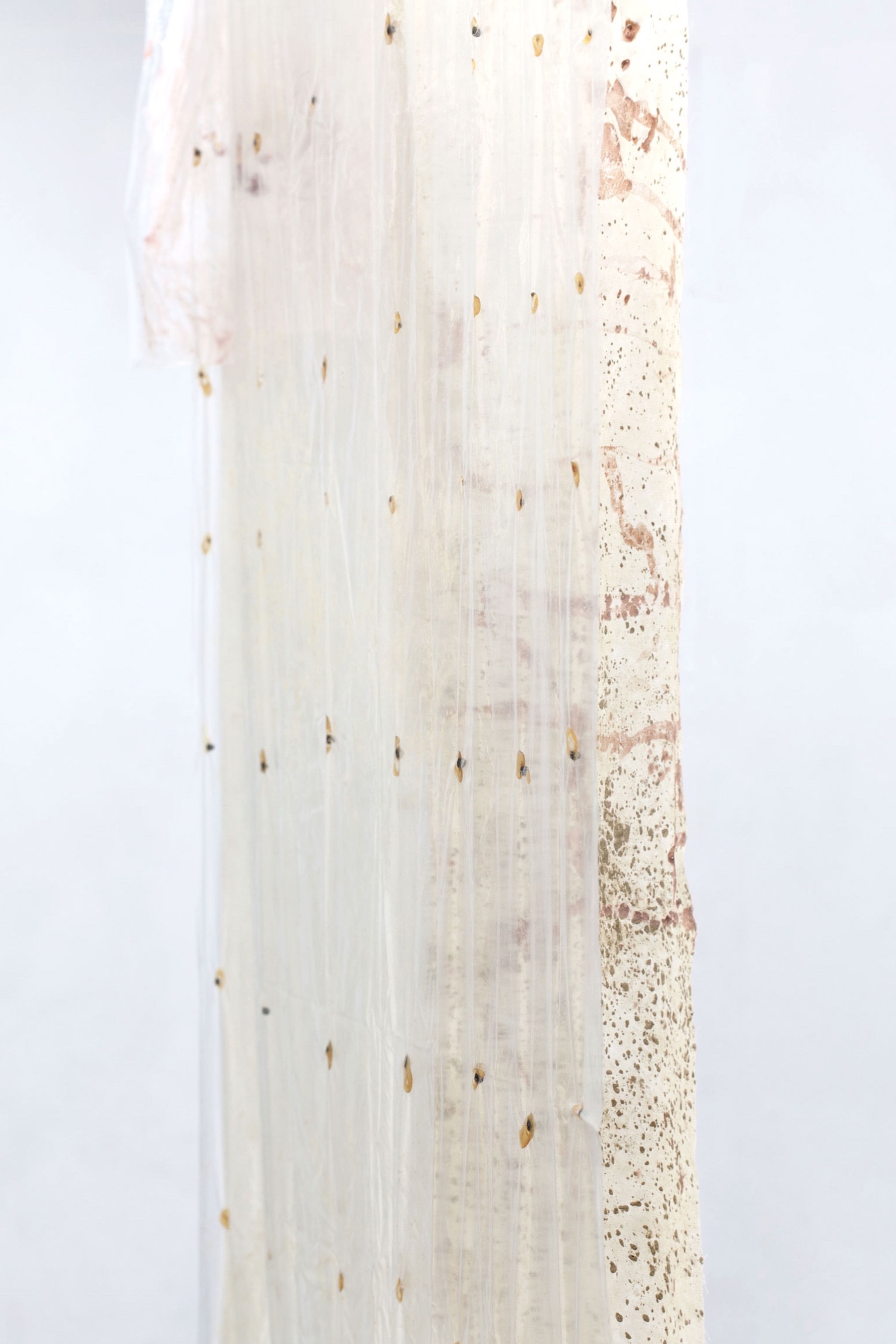 Suspended Panel
Australian endemic seeds, soil, ocre, synthetic & natural fabric, latex, steel
100 x 210 cm
2019

Suspended Panel
Australian endemic seeds, soil, ocre, synthetic & natural fabric, latex, steel
100 x 210 cm
2019

Vessel
Hand-blown glass
23 x 47 cm
2017
Suspended Panel
Australian endemic seeds, soil, ocre, synthetic & natural fabric, latex, steel
100 x 210 cm
2019

Attempt to Re-Naturalise IIIII
Mixed media with ceramic
31 x 22 x 26 cm
2017
Suspended Panel
Australian endemic seeds, soil, ocre, synthetic & natural fabric, latex, steel
100 x 210 cm
2019